Player's Guide V2.5 Creating A Game
Jump to navigation
Jump to search
Selecting "Make New Game" from the board18Main page will bring up the board18New page.
This page contains a form that can be used to create a new BOARD18 game session.
New Game Form
The green form on the board18New page should be used to create the new game.
This form is shown to the right. It contains the following fields:
Game Name: The name of the game that you are about to create. It must be unique so be creative.
Game Box ID: The numeric ID of the game box that you wish to use for the game.
# of Players: Must be from 1 to 6. This is a required field.
Six Player fields: The first one will be pre-filled with your player ID.
The Game Name must use only ASCII characters with no special characters and must be 25 characters or less.
Game Box List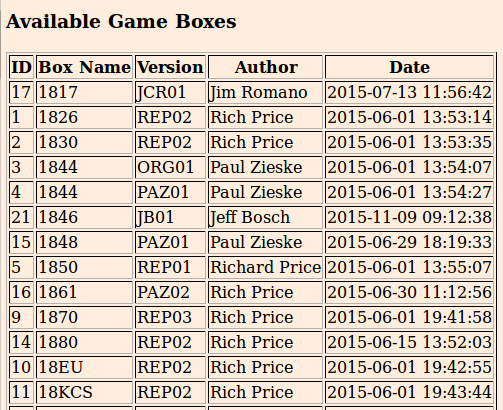 Directly below the New Game Form you will find a list of the game boxes that are available on this server. You must choose a game box from this list.
A sample of this list is shown to the right. Notice that the first column in the list contains a numeric Box ID. Clicking on a numeric Box ID will copy that Box ID into the form.
Player List
On the left panel of the board18New page you will find a list of the Player IDs of all players known to this server. Hovering over an ID will cause that player's name to be displayed. This can be helpful in locating players with cryptic Player IDs. Clicking on a Player ID will add that player to the form.
Other Steps In Creating A Game
Of course, setting up a game consists of more things than just the BOARD18 part explained above.
The How To page linked to here contains step by step instructions for doing all of these things.